Springing Ahead - Cow and "Cow Equivalents"
I can't believe it's a month since I've posted. The bottles have been flowing in - thanks to Norma and Brett, Celeste, my neighbors Sue, Kyle and his family, D&D crowd, Cheryl, Vicki and Paul, Cathy and Lyle, Peter and Barb, the Archives and Special Collections Staff, Research Services main floor office, Natural Sciences Library, Dean's Office, and Information Technology Services.
I took about 6 weeks off posting to Kijiji and have restarted at a slower pace. I am accumulating more and more books as Kijiji isn't a great venue to sell these. Soon the books will take over.
The Bottom Line:
The cow and "cow equivalents" are chugging merrily along with bottles, coupons, Canadian Tire money, points donations, garage sale items etc.
What do I mean by "cow equivalents"?
Well based on the poll about helping out locally with coupons and from talking to folks, people seems to think it was okay if I put aside $15-$20/week to try to pick up deals on food and shelter items. My goal is to get to the point where for $15 we get at least $30 to $60 dollars worth of food/tiems.
So I have been putting my coupon know-how to work and purchasing things for the Food Bank, YWCA Shelter and Aids/Homeless center. When the amount I spend equals $300 (the cost of the cow) that's a cow equivalent.
So we have our first "cow equivalent". And we've almost got Annabelle - cow #19.
I try to use the Shoppers points for the cow when I can but this requires finding people to "shop" on the redemption day and shop ALOT. The last redemption day there were no cow supporters eager to shop at Shoppers so I used the Shopper's Bonus redemption to buy baby formula.
Here's a few examples of what I've bought.
6 Cans of formula powder plus 2 small flats of "instant" formula. Each can is about $30 each.
For those of you who are Shopper Optimum point gurus - I used 75,000 points for $200 and earned 18,000 points toward the next redemption.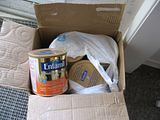 Dawn Dish Soap - 33 cents/each after coupons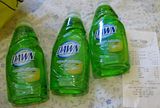 Two Tubs of Cereal and Nutrigrain Bars (ignore Eggos) - $2.97 for all after coupons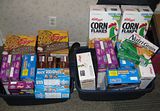 14 Reach Toothbrushes
- paid just the tax after coupons
Shampoo and Conditioner
- on sale for $2 each but each had Shopper's Bonus points equivalent to about 75% of their cost.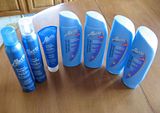 Liptons Sidekicks and Lipton Cup a Soup Deal
- Spent 75*10 Sidekicks ($7.50) after coupons, plus 10*$0.53= $5.30 after coupons for the Cup a Soups. Cup a Soups are regularly at $1.97 to $2.29 at Shopper's
3 Chunky Soups and 6 Gardenay for $2.97 after coupons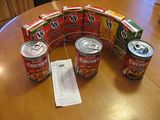 Stayfree and Feminine Products - 99 cents each after coupon, plus tax
There is a coupon for Stayfree $2 off and they go on sale fairly often for $2.99 so I buy a few to donate.
Best Deal of All: Huggies Good Nites - just the tax $0.97
, normally $7.99/each plus tax
Other Donations
During the winter I started gifting clothing, household linens and items to the Homeless shelter if I couldn't sell them. I estimate that about 50 boxes have been gifted and their clothing depot is running low all the time. They look for clothes in season.
I also gave some of the free paper towels (from a coupon deal) to the Street Cat Rescue Group and some to the shelter. I had about 20 packages.
So keep saving coupon flyers for me everyone. Special thanks to Urve, Lorraine and Rob who have kept them all for me.
Coupon trading for the cow is still going on but it's micro-donating ... a few cents here or there. After 4.5 months, I have raised $117.35 for the cow. Definitely better to use these coupons locally to help food bank and shelters.